Concert ads
This page was last updated 23 July 1996. To send additions/corrections go to the contact page.
---
Here are a few interesting advertisements for some early Joe Jackson gigs that I came across.
Back in October 1978 you could see Joe Jackson playing support for another band for a very modest 75 pence (!) at London's Nashville Room.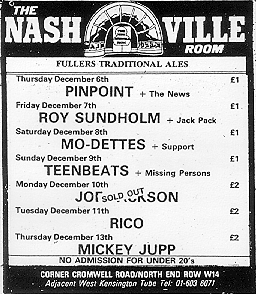 By December 1979 he was headlining at the same venue and you were lucky to get tickets.
An ad for another London gig at the time. The band had a long day (they didn't start until 11pm) as we can see from the two lines that may be too small for you to read:
Doors open at 8pm 1st support 8.30pm
2nd support 9.45 Joe Jackson on stage 11pm
---
Back to Main index | Tours index
---
Copyright © 1995-2010 Andreas Wostrack. All rights reserved.