The White Cat
This page was last updated 26 May 2001. To send additions/corrections go to the contact page.
---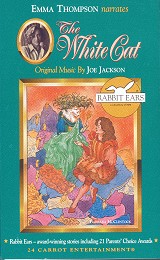 Side One: Narration and Music
The White Cat
Side Two: Joe Jackson's music only
1.
Beyond The Kingdom (1:13)
2.
Simpatico (4:20)
3.
Old Bag Of Bones (1:56)
4.
Cascading Cambric Cloth (3:46)
5.
Many, Many Leagues Under The Sea (2:37)
6.
Battling The Evil Gnome (3:06)
7.
A Princess Emerges (1:47)
8.
Fanfarefuge (3:20)
9.
Reprise (1:46)
Total running time: 50:04 (Side One 26:02, Side Two 24:02)
Narrated by Emma Thompson
Original music by Joe Jackson
Illustrations by Barbara McClintock
Story written by Eric Metaxas
Music produced by Joe Jackson and Ed Roynesdal
Music performed by
Joe Jackson – piano, synthesisers, samples
Tony Aiello – flute, clarinet
Elizabeth McCracken – oboe
Mary Rowell – violin, viola
Music recorded at The Hit Factory, New York, NY
Release formats:

  1994?  US  cas   MMI/Rabbit Ears 9781570-999970 (audio tape)
  1994?  US  VHS   MMI/Rabbit Ears 9781570-999826 (NTSC video)
  2007   US  CD    Rabbit Ears 978-0739350614 (CD audio*)
  ?      US  DVD   ?

* "Treasury of World Tales, Vol. 2", coupled with "The Fool and the Flying Ship", read by Robin Williams, original music by The Klezmer Conservatory Band (amazon.com: 0739350617)


Order the DVD from greattapes.com
---
Back to Main index | Film music index
---
Copyright © 1995-2014 The Joe Jackson Archive