The Big World Sessions
This page was last updated 4 Nov 2001. To send additions/corrections go to the contact page.
---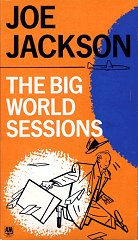 1.
Right And Wrong
2.
Big World
3.
Home Town
4.
Soul Kiss
5.
The Jet Set
6.
Man In The Street
Total running time: 33 min
Director: Bob Lampel
Filmed on 24 Jan 1986, i.e. the second night of recording sessions. Note: 'Right And Wrong' and 'The Jet Set' are the performances heard on the album. The other tracks are alternative takes.
Joe Jackson – vocals, piano, recorder, accordion and melodica
Vinnie Zummo – guitars and vocals
Rick Ford – bass, acoustic guitar and vocals
Gary Burke – drums
Joy Askew, Nikki Gregoroff, Peter Hewlett and Curtis King, Jr. – extra backup vocals coordinated by Joy Askew
Released as:

VHS   PAL   UK? A&M 1304
VHS   PAL   UK? A&M 82043
VHS   NTSC  US  A&M VC 61019
8"LD  NTSC  US  Pioneer Artists PA86-M049
LD    NTSC  JP  Pioneer SM058-3127

---
Back to Main index | Discography index | Video releases index
---
Copyright © 1995-2014 The Joe Jackson Archive